Keeping it Unfucked
Sep 09
You know how I made that tie dye pillow case the other day?
Well I made some more in a different pattern, and I think they're pretty rad…
And they're available on Etsy if you want to spruce up your bedroom, too.
Sep 08
UfYH iPhone/iPad app only $0.99 this weekend!
Half-price unfucking! And I bet you find at least a dollar when you're doing the challenges, so it pays for itself, really. I know I'm biased, but it's a pretty awesome app.
Unfucking the bookshelves (again)
So in the old house we unfucked our bookshelves. Which was great, because when we moved a few months later we had fewer books to pack. Then we moved in and unpacked the books and thought the shelves were done.Thenwe found out the carpet was shedding like mad and setting off everyone's allergies, so we had to take all the books off the bookshelves and install new flooring.
Carpet tiles are super cheap and super easy to vacuum, plus they don't hold dust that much compared to other carpets. (And if one gets wet, you can lift it up and let it dry, then put it back down. Also, Team Cat Pee, if one gets peed on and smelly, you can replace the single tile that's damaged. Just saying, if you are tired of all the linoleum. They have lots of cool designs.)
Then we sat with an invisible corner that looked something like this, because we were kind of DONE with putting books on shelves:
Pile O' Books on a Rolling Cart
Empty shelves quickly becoming a receptacle for whatever we felt like dumping there.
So I thought, 20 minutes, just 20 minutes, I can do 20 minutes with my playlist of choice.
Books where they belong
Media shelf now more free for actual game systems…and another invisible corner to tackle when I have more energy.
I think that if I did not have some sort of system for this, and a timer, and music, those books would still have been there after New Year's.
Aug 27
"I know that this is the internet, and we're all anonymous and all that, but really. It doesn't hurt to try to be nice." — Neil Gaiman (via wilwheaton)
(via amyunicorn001)
For those who were wondering about jewelry organization…
I know this is way belated, but there are a *ton* of great handmade and unique jewelry trees/organizers on Etsy.
I use this one, and I am immensely happy with it because I can fit all kinds of jewelry on it.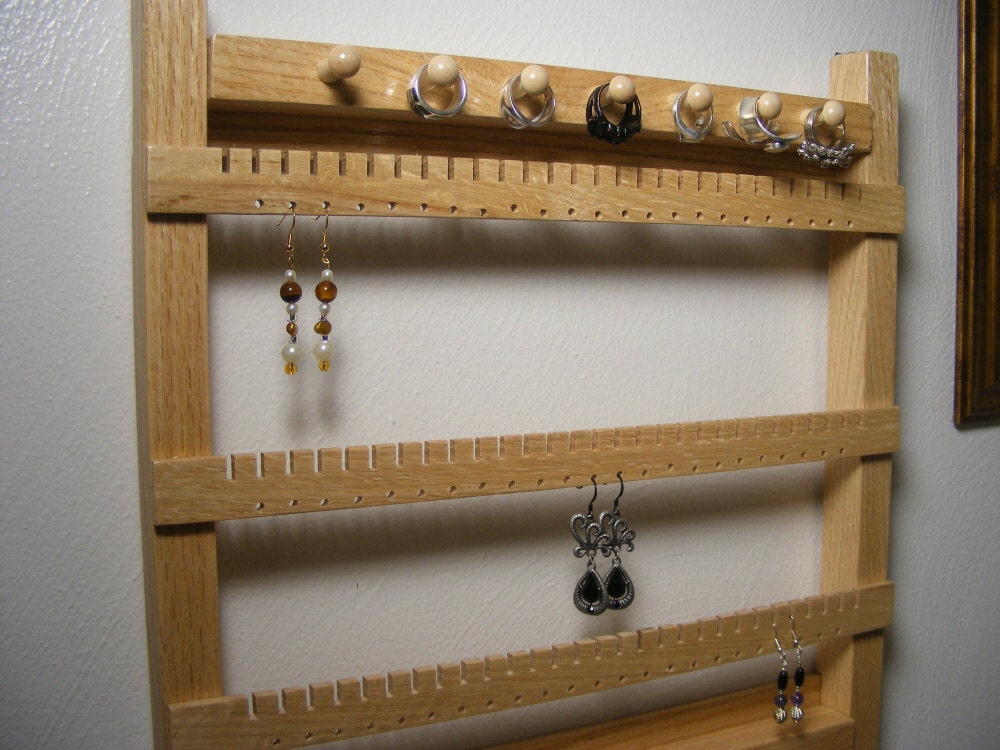 I made my bed even though…
…I got out of the hospital a week ago, I'm using a walker, and my body is in lots of pain. I'm not saying I'm better than anyone, or that you must too because "your excuse is [BS]" or something because I can (don't even get me started on why that is terrible). I'm just saying that given the whirlwind that is happening in my life - and how challenging it is to do housework with a walker right now - making my bed is something I can control. I'm meeting with an OT to learn how to do the rest. For now, making my bed. Yesterday I did the dishes and a drain volcano, and pretty much that's about it except for keeping up with pet care so my dog doesn't rebel/eat me because he is starving.
This is what my bed looks like, and yes I made that fucking kick-ass pillow case:
Why did I tie dye a pillow case and start finding myself nice sheets and get a kick-ass bed frame from freecycle instead of just having my mattress on the floor? Because I appreciate having a nice bed, because the wonderful UfYH lady taught me to.
Thank you.
Aug 09
Unfucking works for medications, too
Before UfYH, I had a pill box and all the pills I was supposed to put in it. Sometimes I did combine the two, but usually I dispensed all the pills manually whenever I was supposed to take them. This was often a problem, because I would discover I was running out of a medication a day before it was gone, leading to frantic calls to my doctor/pharmacy.
Cue UfYH and its magical timer system. I told myself that if I just set a timer for 20 minutes (with some kick-ass music, btw), then I could fill the damn box and be done with it. So I did, one week, and it helped get rid of the clutter of medicine boxes on my desk. I liked this. The next week, I did it again. And again.
I have been filling my pill box regularly for nearly six months now, and it makes such a difference - particularly because I now have to take medications five times per day (don't even ask) and there is no way I could manage it with the other system.
I had to call my doctor about something the other day and I really didn't want to. I knew it would lead to more doctors and probably more tests. There is a certain point in having chronic illness when you're just sort of *done* with medical professionals, even if you really fucking need to see them. But I thought, I will do this phone call thing for 10 minutes. I'll set a timer. And then I'll have a fucking party for myself (the "10" part of a 20/10, or in this case a 10/10).
So I made the call and saw my doctor, and it was good that I did, because I really need to take care of whatever this health shit is.
Timers are magic.
Jul 28
Something's lurking in the kitchen…
I always try to avoid the really nasty dishes, the ones that have stuff caked all over them. I think I'm convinced that if I do the rest of the dishes and leave them with soapy water in the sink then somehow they'll be easier to clean later on. Usually it just creates a backlog in the sink where dishes get piled on top of the really gross one no one wants to clean, and it tends to be a game of chicken in the household to see who will cave and clean it first.
Today I decided to try something different:
I started with this (you can see the beginnings of the original method of "water in pan"):
Bacon grease, that ancient foe. But vinegar and baking soda combine to form a mighty weapon.
And lo, with minimal scrubbing to get the pre-loosened bits off, I was left with this:
Instead of a pile of dishes in my sink.
But I couldn't put it back on a dirty, grease-covered stove…
So I cleaned that too. Took five minutes, instead of the ages it would take later when the grease had hardened onto the stovetop.
\o/
There is one problem. I need more vinegar, because clearly I must keep some below the sink in the kitchen in addition to a bottles in the laundry room and in each bathroom.
Unfucked my dog
My dog is nearly 15, incontinent (and in diapers), blind in one eye, going deaf, and a sweetheart. He transitioned through the move remarkably well, considering he'd lived in the other house since he was 12 weeks old.
We deal with his incontinence by keeping him in reusable diapers with "feminine napkins" as liners, which is a remarkably good system except he ends up smelling like pee fairly frequently. It's not his fault, but it happens.
Pre-move I'd started to get the beginnings of a regular bath routine going, but since the move it's been all, "Boxes! Unpacking! Making sure the diapers are clean and dry!" (It is cheaper and more eco-friendly, and also encourages one to stay on top of the laundry so you're not S.O.L.)
Except yesterday he demanded  cuddles, like he does, and then my partner started wheezing from the dander that got kicked up when I petted him.
Whoops.
So today when I thought, "What should I unfuck today?" I immediately though, "Dog. Bath. Now."
He acted all sad and pathetic in the bath, but now he's all Ima-kill-this-vicious-toy-possum.
I think I'm going to aim for this to be a weekly thing, because it really is nicer to be around him when he doesn't smell like pee or cause general wheezing.
Jul 27
Keeping up the motivation
So much of my energy has been focused on moving over the past few months that now we are finally moved in and most things are unpacked, it's felt like "good enough." Except it's not. It bothers me.
Today I tackled the pile o' spices. No photos, but I took them from the piles of tupperware boxes into the drawer where they are going to live. (Which will make baking and cooking in the new house a lot easier, let me tell you.) They are in roughly alphabetical order, and I got rid of the ones that were almost empty/had obviously expired.
The problem? Only some of them are labeled on the lids, and some of those labels are just plain wrong. Before UfYH, this would have stopped me. I would have gone, "Well, I can't put these in the drawers perfectly organized, so they will sit in boxes until I get a label maker and do a marathon of organizing." Today I thought, "OK, so perfect is the fucking enemy of good. At least these will be put away. I'll work on making them easy to find on another day."
What made me do it? Seeing all the wonderful work Team UfYH is doing. Thanks, folks!